Adventures of the Little Koala, The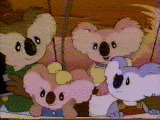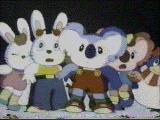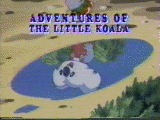 The Adventures of the Little Koala was simply one of the best animated, children's shows ever. The program, of Japanese origin, aired
(dubbed) on Nickelodeon from 1987 to 1992 and was part of Nick's line-up of shows in the afternoon (Nick Jr.) The characters were
realistic and the dialog was fun and never patronizing. Obviously catered to children ages 4-10, it's still darn cool stuff.
Ran for 52 episodes.
MAIN CHARACTERS:
The Koala family:
Laura (daughter, sister. Sometimes bratty, naïve, but always determined)
Roobear (son, brother. A leader and good friend, often courageous)
Papa (father. A photographer.)
Mommy (mother. Housewife, but can fly a plane with the best of 'em.)
Nick and Pamie Penguin (Nick is often a third-wheel, but his sister gets into many adventures)
Mimi and Floppy Rabbit (Floppy is the cool one of the bunch, most athletic. Wears headphones all the time.)
Walter Kangaroo (friend, bully, good w/a boomerang.)
Weather and Mingle (Weather can tell the… weather, hangs w/his sugar-glider/bat friend, Mingle)
Miss Lewis (reporter and friend to the Koala family.)
THEME SONG:
Brand new day, time to play with Roobear and his friends.
Where summer never ends. Koalas show you how to
fly a plane, catch a wave, there's nothing we won't try.
Lots to do, fun starts here with you and me...
Look up there, way up high, koalas in balloons,
laughter's on its way to you...
Laura, Nick and Roo, Mimi and Floppy, too…waiting here for you.
Brand new day, time to play with Roobear and his friends.
The fun and laughter never ends.
Koalas lead the way...on a sunny day...we all love to play...
EPISODE GUIDE:
The Old Clock Tower/Mingle Takes a Dive
Save the Butterflies/A Broken Umbrella
Is Weather A Frog?/Lost In A Race
The King of the Castle/Hang-Gliding with Roobear
The Mysterious Moa Bird/Love That Baby Moa!
Snow White & the Seven Koalas/Roobear's Invention
Papa on Stilts/Detective Roobear
Pamie Falls in Love/The Koala Butterfly
The Koala Bear Gang/Back to Nature
Roobear Saves the Day/Editor-In-Chief Roobear
Ghost Ship/Balloon Pamie
The Dinosaur Egg/Treasure Hunt
Monster Scoop/The Biggest Jigsaw Puzzle in the World
Who Will Be the Flower Queen?/Circus Day
Roobear the Babysitter/Papa Makes a Pie
The Amazing Boomerang/The Runaway Hat
Conquering Mt. Breadknife/Save the Eucalyptus
Mommy Can Fly/Secret of the McGillicuddy Vase
Heavenly Fireworks/Save That Junk
The Winner/A Hundred-Year-Old Camera
Nurse Pamie/Any Mail Today?
The Writing on the Wall/A Ride in a Spaceship
Is Mingle a Nuisance?/Allowance Problems
A Whale of a Ride/Laura Finds an Egg
The Moon Goddess/The Flying Doctor
A Eucalyptus Rocket/Penguins Don't Fly
CREDITS:
Adapted from an original production of Tohokushinsha Film Co. Ltd.
Adapted and directed by Ernest Reid
"Koala Song" lyrics by Liz Joyce, performed by Sonja Ball, Shari Chaskin and Maxie Vaughann.
Executive Producer: Micheline Charest
Producer: Ronald A. Weinberg
Associate Producer: Elizabeth Klinck
Post-Production Supervisor: Pierre Michaud
Production Coordinator: Liz Joyce
Talent Coordinator: Marrielle Gaudreault
Production Secretary: Donna Vektris
Sound Editor: Tony Reed
Music Produced by Andre Perreault
Re-recording Engineer: Andre Perreault
Original Music Composed by Pierre-Daniel Rheanlt
Original Animation and Story by Tohokushinsha Film Co. Ltd.
A Cinar Films Production in association with Viacom International Inc.

AIRED:
In 1991, it aired at 12:30 p.m. – Monday-Friday
VIDEO INFO:
Adventures of the Little Koala (and Friends) was released on one, 45 min video entitled "LAURA AND THE MYSTERY EGG".
It contained 4 episodes: (Conquering Mt. Breadknife, Save the Eucalyptus, Mommy Can Fly, and Laura Finds an Egg)
The video is out-of-print.
---
Bananaman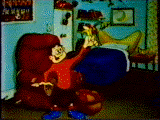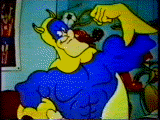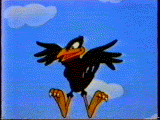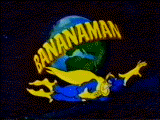 Bananaman was a cartoon series that aired on Nickelodeon after episodes of Danger Mouse throughout the 80s. Each episode was
approximately 5 min. long, and told of the adventures of Eric (who becomes a super hero when he eats a banana). The show didn't
have the greatest animation, but it was goofy and funny. The voice-actors in the show were the three members of the British comedy
troupe, The Goodies. Bananaman was based on a reoccurring character in the UK comic book series, Nutty, which was later carried
across to another comic called Dandy. Bananaman also had a series of his own Summer Specials in the early 90s. The animated series
was made 1983-1984.
MAIN CHARACTERS:
Eric Twinge (Normal, everyday, skinny kid)
Bananaman (Extraordinary, muscular super hero. Blue tights w/yellow banana motif. Flies through air via swimming stroke.)
Crow (Bananaman's sidekick and friend. He's a crow)
Chief O'Reilly (Irish, Police-Chief and all around good guy)
Fiona (Newscaster whom Eric has the hots for)
Appleman (Goofy, but strong ally of Bananaman)
General Blight (Bananaman's arch nemesis)
Nerks (Generally bad, green aliens led by King Zorg)
Other villains (Dr. Gloom, Weatherman, Eddie the Gent, Auntie…)
THEME SONG:
"This is 29 Acacia Road; and this is Eric, a schoolboy who leads an amazing double life; for when Eric eats a
banana, an amazing transformation occurs. Eric 'is' Bananaman…ever alert for the call to justice."
EPISODE GUIDE (inc.):
Intergalactic Olympics, The Big Breakout, Ice Station Zero, Banana Kid, The Lost Tribe of the Tapiocas
Web of Evil, Auntie's Back in Town, Mummy's Curse, Final Orbit, A Tank Full of Trouble, Double Trouble
The Last Banana, The Night Patrol, Memory Lane, Harbour of Lost Ships, Night of the Nerks
Battle of the Century, Fog of Fear, The Peril of Ping-Pong, The Great Air Race, Cavern of the Lost
The Crown Jewel Caper, Destination: Danger, Wall of Death, The Tunnel of Terror, Clown Capers
Visibility Zero, The House on Hangman's Hill, The Jaws of Steel, Trouble at Mill
CREDITS:
Animators: Richard Cox, Joan Garrick, Geoff Loynes, Janet Nunn
Layouts: Gil Potter
Backgrounds: Russell Peerman
Editing: Morgan Daniels Limited
Rostrum Camera: Stephen Williams
Music: Dave Cooke
Production Co-ordination: Thomas Barker, Pat C. Morton
Voices: Grame Garden (Bananaman, General Blight)
Bill Oddie (Eric, Crow, Chief O'Reilly, Dr. Gloom, Weatherman)
Tim Brooke-Taylor (King Zorg, Aunty, Appleman)
Additional Voices: Jill Shilling (Fiona, Mother Nerk)
Script Writer: Bernie Kay
Producer: Trevor Bond
Director: Terry Ward
Made by 101 Productions
VIDEO INFO:
Bananaman was released on two, 50 min. PAL videos in the UK, however they have been deleted for quite awhile:
BANANAMAN MEETS DR. GLOOM – Distributed by Thorn-EMI Screen Entertainment (1985)
BANANAMAN – TVE9026862 – Distributed by Canon Screen Entertainment (1986)
---
Belle and Sebastian (Belle et Sébastian, Meiken Joly)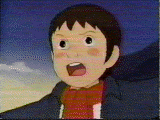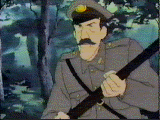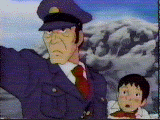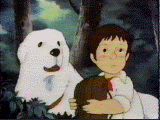 The story of Sebastian, a young boy, who was abandoned at birth by his mother and raised by Old Seasal, the master of the cabin
in which he was born. He befriends Belle, a big white dog; and together they enjoy adventures and a special friendship as they search
across the Pyrenees for Sebastian's mother.
Cecile Aubrey's popular children's book series first spawned a live-action program in France, split into 3 series (13 episodes each):
Belle et Sébastian, Sébastien et la Mary-Morgane, and Sébastien Parmis les Hommes. The animated show was made in 1981, then premiered
on Nickelodeon in June of 1984 and ran until 1986-7 w/64 episodes.
MAIN CHARACTERS:
Sebastian (Young, rosy-cheeked gypsy lad.)
Belle (Sebastian's huge, white dog.)
Poochie (A little, white dog that came along for the ride later)
Garcia (Policeman who gives them trouble)
Old Seasal (Raised Sebastian after his mother left)
EPISODE GUIDE (inc.):
Escaping Smugglers, A Visit to Jail
CREDITS:
Created by: Cecile Aubry
Producers: Katoo Yoshio, HosodaNobuaki
Chief Director: Hayakawa Kenji
Character Designs: Seki Shuuichi
Animation Directors: Iida Kazuo, Momose Yoshiyuki, Kondoo Yuuichi, Kosoko
Yoshishige, Saijoo Takashi, Kitajima Nobuyuki, Takahashi Shigesuke, Tanaka
Tooru, Hirayama Nobuo, Nozaki Tsunenaka, Tsuji Shin'ichi
Music: Komori Akihiro
Layout Designs: Nishi Yoshikuni
Teleplay: Kahiwakura Toshiyuki, Yoshikawa Yooji, Majima Mitsuru
Produced by MK Company and Visual 80 Productions in association with Toho Co. Ltd.