Third Eye, The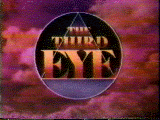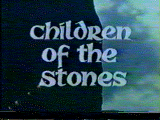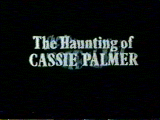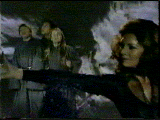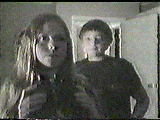 CHILDREN OF THE STONES
1976, British, HTV series about a scientist named Adam Brake, and his young son Matthew, who arrive in a small village. The villagers seem to be in a zombie-like state controlled by an unseen force generating from a circle of strange stones.
EPISODE GUIDE:
Into the Circle, Circle of Fear, Serpent in the Circle, Narrowing Circle
Charmed Circle, Squaring the Circle, Full Circle
Credits:
Starring: Gareth Thomas (Adam Brake)
Peter Demin (Matthew Brake)
Iain Cuthbertson (Raphael Hendrick)
Katharine Levy (Sandra Smythe)
Margaret Smythe (Veronica Strong)
THE HAUNTING OF CASSIE PALMER
1982, New Zealand, TVS series adapted from the novel by Vivien Alcock. It's about a 13 year old girl named Cassie Palmer, the seventh daughter of a seventh daughter who conjures up a possibly evil spirit named Deverill. 6 episodes.
Credits:
Starring: Helen Probyn (Cassie Palmer)
Elizabeth Spriggs (Mrs. Palmer)
Stephen Bint (Tom Palmer)
Ruch Adcock (Mary Palmer)
Geoffrey Rose (Deverill)
Dramatized by Alfred Shaughnessy
Director – Dorothea Brooking
INTO THE LABYRINTH
1980, British, HTV series about three kids who get drawn into a journey through space and time in order to capture the Nida (a magical talisman). There were three series', but only series one was aired on Nick.
EPISODE GUIDE:
Rothgo, The Circle, Robin, Mazure, Conflict, Revolution, Minotaur
Credits:
Starring: Ron Moody (Rothgo)
Pamela Salem (Belor)
Lisa Turner (Helen)
Simon Henderson (Terry)
Simon Beal (Phil)
Executive producer - Patrick Dromgoole
Produced and directed by Peter Graham Scott
UNDER THE MOUNTAIN
1981, New Zealand series adapted from the novel by Maurice Gee. It's about psychic twins staying with their aunt, who meet with a mysterious man named Mr. Jones and end up on a quest to stop sludge aliens from destroying the world.
EPISODE GUIDE:
Maar, Volcano of the Bleeding Skies, Red Force Blue Force, The Alien World Below
Weapons of the Mind, Any Shape Any Form, Assault, The Gift of Oblivion
Credits:
Starring: Kirsty Wilkinson (Rachel)
Lance Warren (Theo)
Roy Leywood (Mr. Jones)
Bill Johnson (Mr. Wilburforce)
---
Today's Special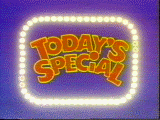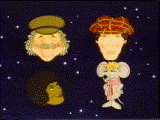 "Nobody Quite Like You, Muffy" song. (2 min. 22 sec.)
Excellent children's series about a mannequin who came to life in a department star via a magic spell from a wizard named Waldo the Magnificent. He must be wearing his hat while the words "Hocus Pocus Alamagocus" are spoken. Thing is, he can only come to life 'inside' the store and when he's wearing his hat. In the store, he learns about life (usually through song) from his newfound friends. 1981-1987. Ran for 121 episodes.
MAIN CHARACTERS:
Jeff – Mannequin, good dancer, plaid hat.
Jodie – Big afro, pink jump-suit.
Sam Crenshaw – Security guard. Has a cat named Penelope
Muffy the Mouse – Always talks in rhyme and loves cheese.
Waldo the Magnificent – Magician who shows up occasionally.
TXL – Sam's computer. Sometimes gives the audience quizzes. I get 'em all right… now.
THEME SONG:
Today's Special… It's for everyone. Today's Special… Come join in the fun.
With magic everywhere. A world for us to share, & friendly faces hoping that you'll want to meet us there.
For Today's Special. It's about to appear, it's about to appear.
Today's Special… Shout it loud and clear! Today's Special.
EPISODE GUIDE:
Hats, Snow, Noses, Family, Camping, Pets, Sleep, Balloons, Soup, Costumes
School, Games, Trains, Water, Books, Fruit, Gardens, Shoes, Hair, Hands
Brushes, Night, Dance, Movies, Circus, Halloween, Opera, Television, Food
Summer Camp, Building, Work, Eyes, Records, Homes, Plays, Birthdays
Soap, Friends, Music, Wood, Flight, Cousins, Police, Moving, Tears
Christmas Part (1-2), Our Story (1-2), Travel, Newspapers, Cookies
Dinosaurs, Adventure, Imagination, Temperature, Smiles, String, Wild West
Space, Pianos, Changes, Dreams, Lost & Found, Boxes and Boxes, Hospitals
Butterflies, Sharing, Storms, Babies, The Sea, Vacations, Cars, Treasure Hunts
Wheels, Ears, Songs, Daisies, Jeans, Waldo's Hat, Letters, Heroes, Grandmothers
Being Alone, Help!, Buttons, Sam's Speech, Dancing Shoes, Storybooks
Going Out, Fun, Live on Stage (45 min.), Jeff, Jodie, Muffy, Sam, Stuffies, Late
The Blue Cow, A Date for Sam, Teeth, Trash, Wishes, Phil's Visit, Junior, Secrets
Moods, Fire, Mrs. Pennypacker's Problem, The Queen of Hearts, A Runaway Spell
A Visit to the Opera, Sam & the Robot, Mrs. Waldo, Rich and Famous, Ice Cream
Bedtime, Locks, Memories, 0??+!
Credits:
Starring: Jeff Hyslop (Jeff)
Nerene Virgin (Jodie)
Nina Keogh (Muffy the Mouse)
Bob Dermer (Sam Crenshaw)
Barrie Baldero (Waldo the Magnificent)
Choreographer – Jeff Hyslop
Musical director, producer, and director – Clive Vanderburgh
Production of TV Ontario
Video:
Six videos (2 episodes each) were released in the US. They are somewhat hard-to-find, though.
VOL. 1 – Smiles, Fun
VOL. 2 – Circus, Songs
VOL. 3 – ?
VOL. 4 – Treasure Hunts, Wild West
VOL. 5 – Adventure, Buttons
VOL. 6 – Night, Storms
---
Tomorrow People, The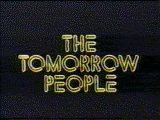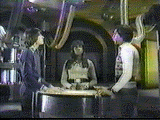 Great, 70s, Roger Price sci-fi. The Tomorrow People have developed telepathic abilities and defend the Earth from humans and aliens. 22 episodes (though split into various parts)

EPISODE GUIDE:
The Slaves of Jedikiah (1-5), The Medusa Strain (1-4), The Vanishing Earth (1-4)
The Blue and the Green (1-5), A Rift in Time (1-4), The Doomsday Men (1-4), Secret Weapon (1-4)
Worlds Away (1-3), A Man for Emily (1-3), The Revenge of Jedikiah (1-3), One Law (1-3)
Into the Unknown (1-4), The Dirtiest Business (1-2), A Much Needed Holiday (1-2)
The Heart of Sogguth (1-2), The Lost Gods (1-2), Hitler's Last Secret (1-2), The Thargon Menace (1-2)
Castle of Fear (1-2), Achilles Heel (1-2), The Living Skins (1-2), War of Empires (1-4)
---
Total Panic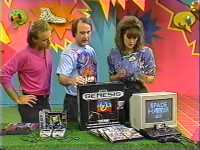 Hosted by Molly Scott and Greg Lee, it was a 3 hour weekly variety show. The program included skits, video game and movie review segments.
---
Turkey TV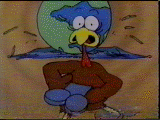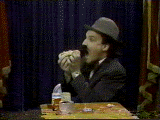 Canadian-produced compilation of original skits and various comedic selections (shorts, commercials, stand-up, et.c) from around the world. Much of the cast of YCDToTV did some stuff on the show. Original skits included "Gramps and Sonny", "Hillary and Katie", and "Good Ol' Kentucky Boys". Many clips came from NJ's 'Uncle Floyd Show'' such as:
"A Day in the Life of Food" (seen above), "Julia Stepchild", etc. Aired first during regular hours in 30 min. shows, and later on Nick-at-Nite in 60 min. shows. 1987-1993
THEME SONG: (longer version, aired with original 30 min. shows) transcribed by Particle Man
Four score and many years ago, we're talkin' pre-TV
Thurman Turkey strolled along his shores to see what he could see
He sniffed the flowers, felt the breeze, and thought a thought or two
As he was quoted later, "There was nothin' else to do"
One day ol' Thurman Turkey showed up missin' from the flock
He had schlepped to Massachusetts where he perched on Plymouth Rock
A ship he spotted frightenin' that made his blood run cold
"it was packed with pudgy pilgrims" from the bowsprit (?) to the hold
"Here comes the neighborhood"
Now he's heard about those pilgrims and was ready for their flack
Ever since the Magna Carta they ate turkey for a snack
He invented something drastic that brought them to all fours
And it turned them into zombies, "when they settle on our shores"
That's how a turkey created TV ... "That's right!"
That's right, a turkey created TV
It sounds stupid but, Oh, take one look and you'll know that a turkey created TV!
THEME SONG: (shorter version, aired with the 60 min. shows)
All around the world, from Paris to the Taj Mahal
They're watching TV everywhere, and you can see it all, on...
Turkey, Turkey TV… Turkey, Turkey TV…
Anywhere they got TV, Thurman Turkey's there.
Bringin' it home to Hollywood and puttin' it on the air.
He won't fail, though the world's on his tail…
Turkey, Turkey TV… Turkey, Turkey TV…
Credits:
Voices: Jim Thurman (Thurman T. Turkey)
Created by Roger Price and Geraldine Laybourne
---
Welcome Freshman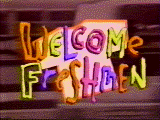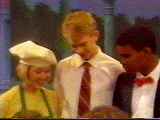 Unfunny high-school comedy. I always watched it, though. Why? I dunno. 1991.
Credits:
Starring: Jocelyn Steiner (Alex Moore)
Rick Galloway (Walter Patterson)
Chris Lobban (Kevin St. Jamesa)
David Phoden (Merv)
Jill Setter (Tara)
Mike Speller (Mr. Lippman)
---
You Can't Do That on Television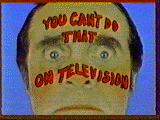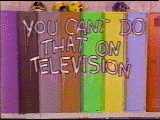 (YCDToTV MIX)
The classic, long-running, kid sketch comedy show. Nick's first big hit, it gave the channel its famous green slime logo. "I don't know" got you dumped with slime, "Water" with...water. Tons of characters have been on the show for its 11 year run (including Alanis Morisette for a few shows in the late seasons), but the show always maintained a sense of honest fun (despite its many re-occuring phrases and situations). Les Lye played all the adult male parts (Senator Prevert Barth, Blip, El Capitano, Ross, Snake, etc.) Abby Hagyrad played all the adult female parts.
Catch phrases aplenty: "Where does the school board find them?" "Don't encourage him" "That is one sneaky kid", "I heard that", "Sometimes it's so easy…", "Blue skies, Barthy burgers…girls." 1979-1990.
Some of the main main cast members:
Alasdair Gillis
Kevin Kubusheskie
Vanessa Lindores
Christine "Moose" McGlade
Doug Ptolemy
Adam Reid
Lisa Ruddy