Adventures of the Little Koala, The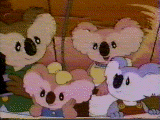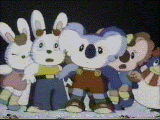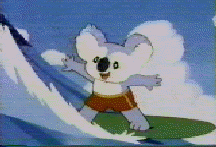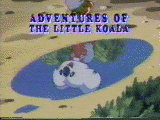 The Adventures of the Little Koala was simply one of the best animated, children's shows ever. The program, of Japanese origin, aired (dubbed) on Nickelodeon from 1987 to 1992 and was part of Nick's line-up of shows in the afternoon (Nick Jr.) The characters were realistic and lovable. The dialog was simple, fun, and never patronizing. Obviously catered to children ages 4-10, it's still fun for all. Ran for 52 episodes.
MAIN CHARACTERS:
The Koala family:
Laura (daughter, sister. Sometimes bratty, naïve, but always determined)
Roobear (son, brother. A leader and good friend, often courageous)
Papa (father. A photographer.)
Mommy (mother. Housewife, but can fly a plane with the best of 'em.)
Nick and Pamie Penguin (Nick is often a third-wheel, but his sister gets into many adventures)
Mimi and Floppy Rabbit (Floppy is the cool one of the bunch, most athletic. Wears headphones all the time.)
Walter Kangaroo (friend, bully, good w/a boomerang.)
Weather and Mingle (Weather can tell the… weather, hangs w/his sugar-glider/bat friend, Mingle)
Miss Lewis (reporter and friend to the Koala family.)
THEME SONG:
Brand new day, time to play with Roobear and his friends.
Where summer never ends. Koalas show you how to
fly a plane, catch a wave, there's nothing we won't try.
Lots to do, fun starts here with you and me...
Look up there, way up high, koalas in balloons,
laughter's on its way to you...
Laura, Nick and Roo, Mimi and Floppy, too…waiting here for you.
Brand new day, time to play with Roobear and his friends.
The fun and laughter never ends.
Koalas lead the way...on a sunny day...we all love to play...
EPISODE GUIDE (inc.):
The Old Clock Tower / Mingle Takes a Dive
A Broken Umbrella / Is Weather a Frog?
Lost in a Race / Ghost Ship
Balloon Pamie / The King of the Castle
Hang-Gliding with Roobear / The Mysterious Moa Bird
Love That Baby Moa! / Snow White & the Seven Koalas
Roobear's Invention / Papa on Stilts
Detective Roobear / The Dinosaur Egg
Treasure Hunt / Pamie Falls in Love
The Koala Butterfly / The Koala Bear Gang
Back to Nature / Roobear Saves the Day
Editor-in-Chief Roobear / Monster Scoop
The Biggest Jigsaw in the World / Who Will Be the Flower Queen?
Circus Day / Roobear the Babysitter
Papa Makes a Pie / The Amazing Boomerang
The Runaway Hat / Conquering Mt. Breadknife
Save the Eucalyptus / Mommy Can Fly
The McGillicuddy Vase / Heavenly Fireworks
Save that Junk / The Winner
A Hundred-Year-Old Camera / Nurse Pamie
Any Mail Today? / The Writing on the Wall
A Ride in a Spaceship / Is Mingle a Nuisance?
Allowance Problems / A Whale of a Ride
Laura Finds an Egg / Save the Butterflies
CREDITS:
Adapted from an original production of Tohokushinsha Film Co. Ltd.
Adapted and directed by Ernest Reid
"Koala Song" lyrics by Liz Joyce, performed by Sonja Ball, Shari Chaskin and Maxie Vaughann.
Executive Producer: Micheline Charest
Producer: Ronald A. Weinberg
Associate Producer: Elizabeth Klinck
Post-Production Supervisor: Pierre Michaud
Production Coordinator: Liz Joyce
Talent Coordinator: Marrielle Gaudreault
Production Secretary: Donna Vektris
Sound Editor: Tony Reed
Music Produced by Andre Perreault
Re-recording Engineer: Andre Perreault
Original Music Composed by Pierre-Daniel Rheanlt
Original Animation and Story by Tohokushinsha Film Co. Ltd.
A Cinar Films Production in association with Viacom International Inc.

AIRED:
In 1991, it aired at 12:30 p.m. – Monday-Friday
VIDEO INFO:
Adventures of the Little Koala (and Friends) was released on one, 45 min video entitled "LAURA AND THE MYSTERY EGG".
It contained 4 episodes: (Conquering Mt. Breadknife, Save the Eucalyptus, Mommy Can Fly, and Laura Finds an Egg)
The video is out-of-print.
---
Bananaman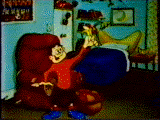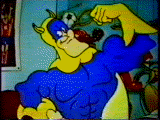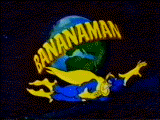 Bananaman was a cartoon series that aired on Nickelodeon after episodes of Danger Mouse throughout the 80s. Each episode was approximately 5 min. long, and told of the adventures of Eric (who becomes a super hero when he eats a banana). The show didn't have the greatest animation, but it was goofy and funny. The voice-actors in the show were the three members of the British comedy troupe, The Goodies. Bananaman was based on a reoccurring character in the UK comic book series, Nutty, which was later carried across to another comic called Dandy. Bananaman also had a series of his own Summer Specials in the early 90s. The animated series was made 1983-1984.
MAIN CHARACTERS:
Eric Twinge (Normal, everyday, skinny kid)
Bananaman (Extraordinary, muscular super hero. Blue tights w/yellow banana motif. Flies through air via swimming stroke.)
Crow (Bananaman's sidekick and friend. He's a crow)
Chief O'Reilly (Irish, Police-Chief and all around good guy)
Fiona (Newscaster whom Eric has the hots for)
Appleman (Goofy, but strong ally of Bananaman)
General Blight (Bananaman's arch nemesis)
Nerks (Generally bad, green aliens led by King Zorg)
Other villains (Dr. Gloom, Weatherman, Auntie…)
THEME SONG:
"This is 29 Acacia Road; and this is Eric, a schoolboy who leads an amazing double life; for when Eric eats a
banana, an amazing transformation occurs. Eric 'is' Bananaman…ever alert for the call to justice."
EPISODE GUIDE (inc.):
Intergalactic Olympics, The Big Breakout, Ice Station Zero, Banana Kid, The Lost Tribe of the Tapiocas
Web of Evil, Auntie's Back in Town, Mummy's Curse, Final Orbit, A Tank Full of Trouble, Double Trouble
The Last Banana, The Night Patrol, Memory Lane, Harbour of Lost Ships, Night of the Nerks
Battle of the Century, Fog of Fear, The Peril of Ping-Pong, The Great Air Race, Cavern of the Lost
The Crown Jewel Caper, Destination: Danger, Wall of Death, The Tunnel of Terror, Clown Capers
Visibility Zero, The House on Hangman's Hill, The Jaws of Steel, Trouble at Mill
CREDITS:
Animators: Richard Cox, Joan Garrick, Geoff Loynes, Janet Nunn
Layouts: Gil Potter
Backgrounds: Russell Peerman
Editing: Morgan Daniels Limited
Rostrum Camera: Stephen Williams
Music: Dave Cooke
Production Co-ordination: Thomas Barker, Pat C. Morton
Voices: Grame Garden (Bananaman, General Blight)
Bill Oddie (Eric, Crow, Chief O'Reilly, Dr. Gloom, Weatherman)
Tim Brooke-Taylor (King Zorg, Aunty, Appleman)
Additional Voices: Jill Shilling (Fiona, Mother Nerk)
Script Writer: Bernie Kay
Producer: Trevor Bond
Director: Terry Ward
Made by 101 Productions
VIDEO INFO:
Bananaman was released on two, 50 min. PAL videos in the UK, however they have been deleted for quite awhile:
BANANAMAN MEETS DR. GLOOM – Distributed by Thorn-EMI Screen Entertainment (1985)
BANANAMAN – TVE9026862 – Distributed by Canon Screen Entertainment (1986)
---
Belle and Sebastian (Belle et Sébastian, Belle e Sebastien, Meiken Joly)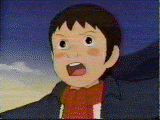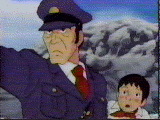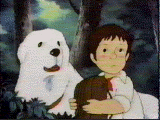 The story of Sebastian, a young boy, who was abandoned at birth by his mother and raised by Old Seasal, the master of the cabin in which he was born. He befriends Belle, a big white dog; and together they enjoy adventures and a special friendship as they search across the Pyrenees for Sebastian's mother.
Cecile Aubrey's popular children's book series first spawned a live-action program in France, split into 3 series (13 episodes each): Belle et Sébastian, Sébastien et la Mary-Morgane, and Sébastien Parmis les Hommes. The animated show was made in 1981, premiered on Nickelodeon in June of 1984 and ran until 1986-7 w/52 episodes.
MAIN CHARACTERS:
Sebastian (Young, rosy-cheeked gypsy lad.)
Belle (Sebastian's huge, white dog.)
Poochie (A little, white dog that came along for the ride later)
Garcia (Policeman who gives them trouble)
Old Seasal (Raised Sebastian after his mother left)
CREDITS:
Produced by MK Company and Visual 80 Productions in association with Toho Co. Ltd.
Chief animator: Toshiyuki Kashikuran
---
Count Duckula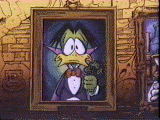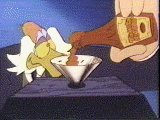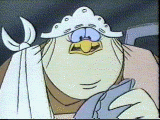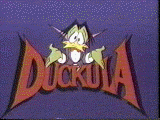 British, cartoon spin-off of Danger Mouse about a vegetarian, Transylvanian Duck, his butler Igor and his nanny…Nanny. Aired on Nickelodeon from 1988-1993. Ran for 65 episodes. A different style than Danger Mouse, less 'silly', more predictable humor w/a sitcom-like pacing. Often very funny, quite original, and terrific voice acting; especially Brian Trueman as Nanny who can make 'any' sentence into classic comedy. Another great Cosgrove-Hall toon.
MAIN CHARACTERS:
Count Duckula (Master Duckula, Duckieboos) (Obsessed w/getting into show biz, loves broccoli, hates blood)
Igor (Grave, loyal butler of the Duckula dynasty who wishes his master was more evil)
Nanny (No-witted nanny. "I'll get it", she said as she crashed through yet another door)
The Crow Bros. (3 thieves who often try to sneak into Castle Duckula, and usually ends up failing)
Dr. Von Goosewing (Persistent yet unsuccessful, wampire-hunter)
THEME SONG:
(OPENING)
"Castle Duckula… Home to many a dreadful dynasty of vicious vampire ducks, the Counts of Duckula.
Legend has it that these foul beings can be destroyed by a stake through the heart or exposure to sunlight.
This does not suffice, however; for they may be brought back to life, by means of a secret rite that can
be performed once a century, when the moon is in the eighth house of Aquarius…"
Igor – "… bats wing, blood."
Nanny – "I'll get it."
"The latest reincarnation did not run according to plan."

In the heart of Transylvania, in the vampire hall of fang-ya, there's not a vampire zanier than DUCKULA.
He won't bite beast or man, cause he's a vegetarian and things never run to plan for DUCKULA.
If you're looking for some fun, you can always count upon the wild and wacky one they call DUCKULA
(hehe, 'Count' Duckula)
(CLOSING)
If you're feeling (ahhh) or you're a little…, maybe you've run into DUCKULA.
If your knees go (knock) or your teeth go (chatter) maybe you've bumped into DUCKULA.
He flies through the night, looking for a bite, but he's back here by daylight. DUCKULA.
If you're sort of… or you're a little (cuckoo), it's certain you've run into DUCKULA.
If your heart goes (oompa oompa) or your mind goes (crazy), 'man' you've had a brush w/DUCKULA.
So, watch out for the…, beware of the… and pray you never meet w/DUCKULA.
EPISODE GUIDE:
Series 1
No Sax Please. We're Egyptian, Vampire Vacation, One Stormy Night, Transylvanian Homesick Blues
Restoration Comedy, Mutinous Penguins, Dr. Von Goosewing's Invisible Ray, Down Under Duckula
All in a Fog, Castle Duckula: Open to the Public, The Ghost of McCastle McDuckula, Igor's Busy Day
Autoduck, The Vampire Strikes Back, Hardluck Hotel, The Hunchbudgie of Notre Dame, Dear Diary
Rent a Butler, Jungle Duck, Mobile Home, A Fright at the Opera, Dr. Goosewing and Mr. Duck
Town Hall Terrors, Sawdust Ring, Duck and the Broccoli Stalk, Family Reunion
Series 2
Ghostly Gold, Ducknapped!, The Lost Valley, Incredible Shrinking Duck, Hi-Duck, Prime-Time Duck
Bloodsucking Fruit Bats of the Lower Amazon, Count & the Pauper: I ain't Gonna Work on Maggots Farm
No More, In Arctic Circles, Transylvanian Take-Away, Who Dunnit?, No Yaks, Please. We're Tibetan
Beau Duckula, Mississippi Duck, Amnesiac Duck, Mysteries of the Wax Museum
Return of the Curse of the Secret of the Mummy's Tomb Meets Frankenduckula's Monster and the Wolfman
and the Intergalactic Cabbage, Lost City of Atlantis, Bad Luck Duck
Series 3
Private Beak, Astro Duck, Unreal Estate, Bombay Duck, There are Werewolves at the Bottom of My Garden
Duck Ahoy, The Great Ductective, Dead Eye Duck, The Show Must Go On, A Christmas Quacker
The Rest is History, O.O. Duck, Mystery Cruise
Series 4
Alps-A-Daisy, Prince Duckula, A Mountie Always Gets His Duck, The Zombie Awakes
Around the World in a Total Daze, Manhattan Duck, Venice - A Duck Not a Duck
SOME CREDITS:
Voices: David Jason (Count Duckula)
Jack May (Igor)
Brian Trueman (Nanny)
Jimmy Hibbert (von Goosewing)
Barry Clayton (Narrator)
Additional voices: Ruby Wax
Vocals: Doreen Edwards, Mike Harding
Original music: Mike Harding
Animation: Stephen Thomas, Meryl Edge, Andy Wilson, Paul Greenall, Karen Heywood, Jennie Langley
Animation director: Jean Flynn
Associate producer: Chris Randall
Executive producer – John Hambley
Directed by Chris Randall
Produced by Mark Hall and Brian Cosgrove
VIDEO INFO:
Never released in the US, 25 Duckula episodes were released on 25 separate PAL videos in the UK. Most are out-of-print and distributed by Thames (1988):
THE GREAT DUCKTECTIVE, A FRIGHT AT THE OPERA, HUNCHBUDGIE OF NOTRE DAME
DR. GOOSEWING & MR. DUCK, DEAR DIARY, THE VAMPIRE STRIKES BACK, HARDLUCK HOTEL
ONE STORMY NIGHT , MUTINOUS PENGUINS, NO SAX PLEASE. WE'RE EGYPTIAN, BEAU DUCKULA
THE RETURN OF THE CURSE…, THE LOST VALLEY, MYSTERIES OF THE WAX MUSEUM
PRIME TIME DUCK, DUCKNAPPED, THE INCREDIBLE SHRINKING DUCK, GHOSTLY GOLD
BLOODSUCKING FRUITBATS OF THE LOWER AMAZON, TRANSYLVANIAN HOMESICK BLUES
MOBILE HOME, AUTODUCK, RENT A BUTLER, ALL IN A FOG, RESTORATION COMEDY
---
Danger Mouse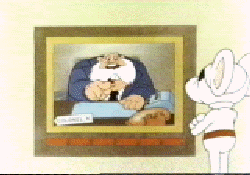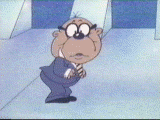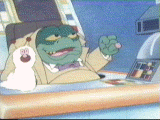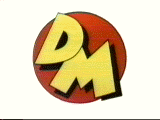 Danger Mouse, the animated tales of the greatest secret agent in the world, was a long running British production.
DM and his sidekick, Penfold, would battle the evil forces of Baron Silas Greenback. Smart, witty, silly, corny, punny, and with great voice acting by David Jason and co. Danger Mouse started airing on Nick around 1983 and continued until the early 90s. Episodes were either 10 or 20 min. long. (When Nick would air the 20 min. episodes, they would have them in two, 10 min. parts.) DM airs occasionally on Nickelodeon in other countries (Australia, UK) so why not bring it back over in the US? Ran for 89 episodes.
MAIN CHARACTERS:
Danger Mouse (An eye patch and no pants, he continuously saves the world)
Ernest Penfold (DM's hamster sidekick. Oh 'eck, oh crumbs…)
Colonel K. (Head of the agency, gives DM his assignments)
Baron Silas Greenback (Frog bent on world domination)
Nero (Greenback's white, fluffy, caterpillar pet)
Stiletto (Greenback's right-hand man, either from Italy or the Bronx, depending on which series)
THEME SONG:
(OPENING) He's the greatest. He's fantastic. Wherever there is danger he'll be there.
He's the ace. He's amazing. He's the strongest, he's the greatest, he's the best!
Danger Mouse… Danger Mouse!… Danger Mouse!!!
(CLOSING) He's the greatest. He's fantastic. Wherever there is danger he'll be there.
He's the ace. He's amazing. He's the strongest, he's the greatest, he's the best!
Danger Mouse… He's terrific. He's magnific. He's the greatest secret agent in the world
Danger Mouse, power house. He's the fastest, he's the greatest, he's the best!
Danger Mouse… Danger Mouse!… Danger Mouse!!!
EPISODE GUIDE:
Series 1 (10 min. each)
Rogue Robots, Who Stole the Bagpipes?, Trouble With Ghosts, The Chicken Run, The Martian Misfit
The Dream Machine, Lord of the Bungle, Die Laughing, The World of Machines, Ice Station Camel
The Plague of Pyramids
Series 2 (20 min. each)
Custard, Close Encounters of the Absurd Kind, The Duel, The Day of the Suds
The Bad Luck Eye of the Little Yellow God, The Four Tasks of Danger Mouse
Series 3 (20 min. each)
The Invasion of Colonel 'K', Danger Mouse Saves the World ... Again, The Odd Ball Runaround
The Strange Case of the Ghost Bus, Trip to America
Series 4 (20 min. each)
The Wild, Wild Goose Chase, The Return of Count Duckula, Demons Aren't Dull, 150 Million Years Lost
The Planet of the Cats, 4 Heads Are Better than 2, Tower of Terror, The Great Bone Idol, Public Enemy No. 1
Series 5 (10 min. each)
Long Lost Crown Affair, By George It's a Dragon, Tiptoe through the Penfolds, Project Moon
The Next Ice Age Begins at Midnight, The Aliens are Coming, Remote-Controlled Chaos
The Man From Gadget, Tampering With Time Tickles, Nero Power
Series 6 (10 min. each)
Once Upon a Time Slip, Viva Danger Mouse, Play it Again Wufgang, Hear Hear, Multiplication Fable
The Spy Who Stayed in With a Cold, It's All White White Wonder, The Hickory Dickory Dock Dilemma
What a Three-Point Turn-Up for the Book, Quark! Quark!, 'Alping is Snow Easy Matter, `Aaargh! Spiders!
One of Our Stately Homes is Missing, Afternoon Off - With the Fangboner
Beware of Mexicans Delivering Milk, Cat-Astrophe, The Good the Bad and the Motionless, Statues
The Clock Strikes Back!, `Ee! Tea!, Bandits Beans and Ballyhoo!, Have You Fled Any Good Books Lately?
Tut Tut it's Not Pharaoh, Lost Found & Spellbound, Penfold B.F., Mechanized Mayhem
Journey to the Earth's... `Cor
Series 7 (20 min. each)
Danger Mouse on the Orient Express, The Ultra Secret Secret, Duckula Meets Frankenstoat
Where there's a Well there's a Way, All Fall Down, Turn of the Tide
Series 8 (10 min. each)
Gremlin Alert, Cor! What a Picture
CREDITS:
Voices: David Jason (Danger Mouse ("The white wonder"), Narrator ("London…"), Colonel K., Nero)
Terry Scott (Penfold)
Edward Kelsey (Baron Silas Greenback)
Brian Trueman (Stiletto ("Eh Baroni")
Written by Brian Trueman and Mike Harding
Music by Mike Harding
Music Production: Ritchie Close
Directed by Brian Coscrove
Produced by Brian Cosgrove and Mark Hall
Animators: George Jackson, Robert Newman, Garry Owen, Tony Garth, Stephen Thomas, Jean Flynn, Meryl Edge
Backgrounds: Malcolm Turner, Andy Roper, Diane Wren
Paint and Trace: Bob Burrows, Phillip McMylor, Roy Huckerby, Monica McCartney, Lorraine Thomas, Andrew Wilson
Barbra Alcock, Judy Ringrose, Joan Storey, Simon White
Camera: Frank Hardie, Wendie Harie, Peter Kidd
Editing: Nigel Rutter, Nibs Senior, Stephen Perry
Assistant Director: Jean Flynn
VIDEO INFO:
21 episodes were released on 5 videos in the US. They are out-of-print. Distributed by Thorn EMI.
1 – TVF2673 - Custard, Close Encounters of the Absurd Kind, The Bad Luck Eye…, Trouble with Ghosts
2 – TVF2851 - Who Stole the Bagpipes, The Odd Ball Run Around, The Return of Count Duckula, Public Enemy
3 – TVF3030 - The Dream Machine, The Four Tasks of Danger Mouse, The Chicken Run, The Planet of the Cats
4 – TVF3246 - Danger Mouse Rides Again, Die Laughing, The Day of the Suds, 150 Million Years Lost, Rogue Robots
5 – TVF3513 - Lord of the Bungle, The Invasion of Colonel K., Tower of Terror, Ice Station Camel
---
Heathcliff (and the Catillac Cats)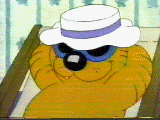 Fun toon about Heathcliff, an orange, mischievous tabby. His friends lived in the junkyard and segments
of the show often consisted of their (The Catillac Cats) adventures. 1984-1987. Episodes were 11 min each.
MAIN CHARACTERS:
Heatchliff
Cleo – Heatchliff's girlfriend
Hector – Skinny, grey cat who wears a headband and a tie.
Wordsworth – Skinny, white cat who spoke in rhymes, always wearing roller skates and listening to a walkman.
Mungo – Big, fat dumb, grey cat.
Riff Raff – Short orange cat who wears a cap. Tough guy, leader.
Leroy – Incompetent, junkyard guard dog.
THEME SONG:
Heathcliff, Heathcliff, no one should terrify their neighborhood. But Heathcliff just won't be undone
Playing pranks on everyone. Ooooooohhhhhh.
Heathcliff, Heathcliff, no one should terrify their neighborhood. But Heathcliff just won't be undone
You should realize he can win it with you!
EPISODE GUIDE:
The Great Pussini, Kitty Kat Kennels, Chauncey's Big Escape, Carnival Caper, Mad Dog Catcher
Circus Beserkus, Rebel Without a Claws, The Farming Life Ain't For Me, Heathcliff's Middle Name
Wishful Thinking, The King of the Beasts, Cat Can Do, Smoke Gets in My Eyes
Much Ado About Bedding, City Slicker Ca, House of the Future, Spike's Cousin, For the Birds
Heathcliff's Pet, Swamp Fever, Teed Off, Monstro and the Wolfman, Say Cheese!, Cats Angels
Meow Meow Island, Family Tree, Who's Got the Chocolate?, Be Prepared, Cruisin' for a Bruisin
Heathcliff Gets Canned, Wackoed Out, Brain Sprain, May the Best Cat Win, Revenge of the Kitty
Hospital Heathcliff, Going Shopping, Wild Cat Heathcliff, Catburgler Heathcliff
The Blizzard Bandit, Kitten Smitten, The Gang's All Here, Snow Job, Heathcliff Pumps Iron
Heathcliff's Double, Terrible Tammy, Big Top Bungling, Lard Times, Spike's Slave, Gopher Broke
Soap Box Derby, Where There's an Ill, There's a Way, Bamboo Island, Butter Up!
Sonja's Nephew, Cat Food for Thought, Phantom of the Garbage, Trombone Terror
Pop's Parole, The Siamese Twins, Copa Ca Heathcliff, Used Pets, An Officer and an Alleycat
Service With a Smile, Boom Boom Pussini, Sealand Mania, The Super M.A.C. Menace
Heathcliff Reforms, A Piece of the Rock, Flying High, Heathcliff Surprise, The Catfather
Tally-Ho Heathcliff, The Great Tunda, The Baby Buggy Bad Guys, Claws, Grandpa vs. Grandpa
Mamma's Back in Town, Raiders of the Lost Cat, The Home Wreckers, Star of Tomeow-Meow
The Big Game Hunter, Debutante Ball, Tally-Ho Heathcliff, The Gang's All Here
The Meowsic Goes Round & Round, Mungo's Dilemma, Jungle Vacation, Hector's Takeover
Going Shopping, Cat in the Fat, Wildcat Heathcliff, Kitten Around, Cat Burglar Heathcliff
Lucky's Unlucky Day, Young Cat With a Horn, Iron Cats, Whacked Out, Beach Blanket Mungo
Cat Balloon, Cat Can Do, For the Birds, Momma's Back in Town, Trash Dance, The Big Break In
Leroy's In Love, Search for a Star, The Games of Love, Scaredy Cats, Mungo Lays An Egg
The Mungo Mash, A Camping We Will Go, Bigfoot, Junk Food, Search for Catlantis
CREDITS:
Voices: Heathcliff (Mel Blanc)
Cleo (Donna Christie)
Wordsworth (Kyle Jenson)
Riff Raff (Stan Jones)
Hector (Danny Mann)
Sonja (Marilyn Lightstone)
VIDEO INFO:
There are 14 released videos in the US (Five w/10 eps each, Six w/4 eps each, and one w/2 eps each), and 'The Movie'.
---
Inspector Gadget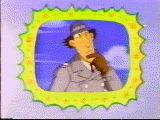 Canadian toon about Inspector Gadget, a robotically enhanced, cartoon incarnation of Maxwell Smart.
Well-known for his detective skills, in reality his cases were always solved by his niece (Penny) and her dog (Brain).
Their main arch enemy was Dr. Claw (whose face was always hidden) and his Mad Cat. Their crime organization was
called MAD. Premiered on Nickelodeon in the Fall of 1987. Ran for 85 episodes.
MAIN CHARACTERS:
Inspector Gadget – "Go go gadget-copter" Dress in grey coat and hat.
Penny – Gadget's blond-haired niece, with a super-laptop
Brain – Penny's beagle. Never spoke.
Chief Quimby – The Chief.
Dr. Claw – "I'llll get you next time, Gadget…NEXT TIME!"
MAD Cat – Faithful feline
EPISODE GUIDE:
Season 1
Gadget in Winterland, Monster Lake, Down on the Farm, Gadget at the Circus
The Amazon, Health Spa, The Boat, Haunted Castle, Race to the Finish
The Ruby, A Star is Lost, All That Glitters, Movie Set, Amusement Park, Art Heist
Volcano Island, The Invasion, The Infiltration, The Curse of the Pharoah, Mad Trap
Basic Training, Sleeping Gas, Gadget's Replacement, Greenfinger, Gadget Goes West
Launch Time, Photo Safari, The Coo-Coo Clock Caper, The Japanese Connection
Arabian Nights, A Clear Case, Dutch Treat, The Great Divide, Eye of the Dragon
Doubled Agent, Plantform of the Opera, Don't Hold Your Breath, Gone Went the Wind
King Wrong, Pirate Island, M.A.D. Academy, No Flies on Us, Luck of the Irish
Prince of the Gypsies, Old Man of the Mountain, The Emcrald Duck, Do unto Udders
Did You Myth Me?, A Bad Altitude, Funny Money, Follow That Jet, Dry Spell
Smeldorado, Quimby Exchange, Weather in Tibet, Unhenged, Snakin' all Over, In Seine
Tree Guesses, Birds of a Feather, So it is Written, Fang the Wonder Dog
School for Pickpockets, Quizz Master
Season 2
Magic Gadget, The Great Wambini's Seance,Wambini Predicts, The Capeman Cometh
Crashcourse in Crime, Gadget's Gadgets, Gadget in Minimadness
The Incredible Shrinking Gadget, Gadget Meets the Grappler, Ghost Catchers
Busy Signal, Bad Dreams are Made of this, Focus on Gadget, Mad in the Moon
N.S.F. Gadget, Tryannosaurus Gadget, Gadget's Roma, Gadget's Clean Sweep
Gadget Meets the Clan, Gadget and Old Lace, Gadget and the Red Rose
CREDITS:
Voices: Inspector Gadget (Don Adams)
Penny (Cree Summer Francks/Holly Berger)
Brain, Dr. Claw (Frank Welker)
Chief Quimby (Maurice LaMarche)
VIDEO INFO:
Over 24 episodes were released on 26 videos in the US, including:
All That Glitters, Busy Signal, Crashcourse in Crime, Fang the Wonderdog, Funny Money, Gadget's Roma, Haunted Castle
King Wrong, M.A.D. Academy, Presto Change-O, School for Pickpockets, Smelderado, The Coo-Coo Clock Caper
The Daffy Detective, The Invasion, The Quiz Masters, Gadget in Minimadness, The Incredible Shrinking Gadget
Gadget Goes West, Eye of the Dragon, Focus on Gadget, Mad in the Moon, Ghost Catchers, Did You Myth Me