Heathcliff (and the Catillac Cats)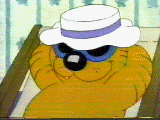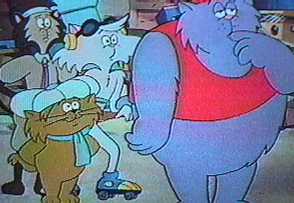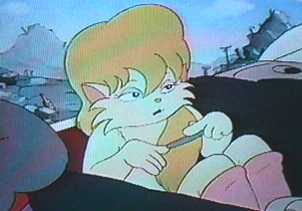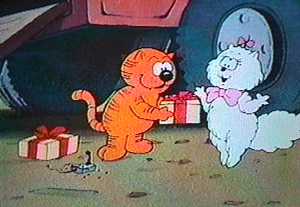 Fun toon about Heathcliff, an orange, mischievous tabby. His friends lived in the junkyard and segments of the show often consisted of
their (The Catillac Cats) adventures. 1984-1987. Episodes were 11 min each.
MAIN CHARACTERS:
Heatchliff - Mischievous, orange, tabby
Sonya – Heatchliff's girlfriend
Hector – Skinny, grey cat who wears a headband and a tie.
Wordsworth – Skinny, white cat who spoke in rhymes, always wearing roller skates and listening to a walkman.
Mungo – Big, fat dumb, grey cat.
Riff Raff – Short orange cat who wears a cap. Tough guy, leader.
Cleo - Riff Raff's girlfriend
Leroy – Incompetent, junkyard guard dog.
THEME SONG:
Heathcliff, Heathcliff, no one should... terrify their neighborhood. But Heathcliff just won't be undone
playing pranks on everyone. There's a race to be on top. The competition doesn't stop.
Mixing with the ladies fair, being charming, debonair. The gang will reign supreme, and no one can deny-y-y-y.
They'll make some history, and always have an alibi-i. So join in the jubilee, the cats are great, they'll all agree.
Find in each calamity, the cats superiority. Hooohohohohohoooohohooohohohoooohohooohohohoooohoho.
Heathcliff, Heathcliff, no one should... terrify their neighborhood. But Heathcliff just won't be undone.
You should realize he can win it with you!
EPISODE GUIDE:
The Great Pussini, Kitty Kat Kennels, Chauncey's Big Escape, Carnival Caper, Mad Dog Catcher
Circus Beserkus, Rebel Without a Claws, The Farming Life Ain't For Me, Heathcliff's Middle Name
Wishful Thinking, The King of the Beasts, Cat Can Do, Smoke Gets in My Eyes
Much Ado About Bedding, City Slicker Ca, House of the Future, Spike's Cousin, For the Birds
Heathcliff's Pet, Swamp Fever, Teed Off, Monstro and the Wolfman, Say Cheese!, Cats Angels
Meow Meow Island, Family Tree, Who's Got the Chocolate?, Be Prepared, Cruisin' for a Bruisin
Heathcliff Gets Canned, Wackoed Out, Brain Sprain, May the Best Cat Win, Revenge of the Kitty
Hospital Heathcliff, Going Shopping, Wild Cat Heathcliff, Catburgler Heathcliff
The Blizzard Bandit, Kitten Smitten, The Gang's All Here, Snow Job, Heathcliff Pumps Iron
Heathcliff's Double, Terrible Tammy, Big Top Bungling, Lard Times, Spike's Slave, Gopher Broke
Soap Box Derby, Where There's an Ill, There's a Way, Bamboo Island, Butter Up!
Sonja's Nephew, Cat Food for Thought, Phantom of the Garbage, Trombone Terror
Pop's Parole, The Siamese Twins, Copa Ca Heathcliff, Used Pets, An Officer and an Alleycat
Service With a Smile, Boom Boom Pussini, Sealand Mania, The Super M.A.C. Menace
Heathcliff Reforms, A Piece of the Rock, Flying High, Heathcliff Surprise, The Catfather
Tally-Ho Heathcliff, The Great Tunda, The Baby Buggy Bad Guys, Claws, Grandpa vs. Grandpa
Mamma's Back in Town, Raiders of the Lost Cat, The Home Wreckers, Star of Tomeow-Meow
The Big Game Hunter, Debutante Ball, Tally-Ho Heathcliff, The Gang's All Here
The Meowsic Goes Round & Round, Mungo's Dilemma, Jungle Vacation, Hector's Takeover
Going Shopping, Cat in the Fat, Wildcat Heathcliff, Kitten Around, Cat Burglar Heathcliff
Lucky's Unlucky Day, Young Cat With a Horn, Iron Cats, Whacked Out, Beach Blanket Mungo
Cat Balloon, Cat Can Do, For the Birds, Momma's Back in Town, Trash Dance, The Big Break In
Leroy's In Love, Search for a Star, The Games of Love, Scaredy Cats, Mungo Lays An Egg
The Mungo Mash, A Camping We Will Go, Bigfoot, Junk Food, Search for Catlantis
CREDITS:
Voices: Heathcliff (Mel Blanc)
Cleo (Donna Christie)
Wordsworth (Kyle Jenson)
Riff Raff/Milkman (Stan Jones)
Hector (Danny Mann)
Sonja (Marilyn Lightstone)
Mungo (Ted Ziegler)
Spike (Derek McGrath)
VIDEO INFO:
There are 14 released videos in the US (Five w/10 eps each, Six w/4 eps each, and one w/2 eps each), and 'The Movie'.
---
Inspector Gadget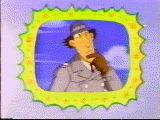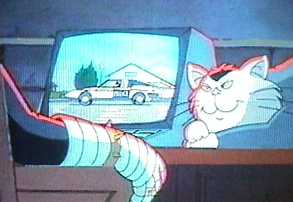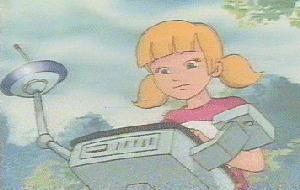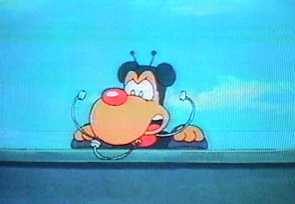 Canadian toon about Inspector Gadget, a robotically enhanced, cartoon incarnation of Maxwell Smart. Well-known for his detective
skills, in reality his cases were always solved by his niece (Penny) and her dog (Brain). Their main arch enemy was Dr. Claw (whose
face was always hidden) and his Mad Cat. Their crime organization was called MAD. Premiered on Nickelodeon in the Fall of 1987.
Ran for 85 episodes.
MAIN CHARACTERS:
Inspector Gadget – "Go go gadget-copter" Dress in grey coat and hat.
Penny – Gadget's blond-haired niece, with a super-laptop
Brain – Penny's beagle. Never spoke.
Chief Quimby – The Chief.
Dr. Claw – "I'llll get you next time, Gadget…NEXT TIME!"
MAD Cat – Faithful feline
EPISODE GUIDE:
Season 1
Gadget in Winterland, Monster Lake, Down on the Farm, Gadget at the Circus
The Amazon, Health Spa, The Boat, Haunted Castle, Race to the Finish
The Ruby, A Star is Lost, All That Glitters, Movie Set, Amusement Park, Art Heist
Volcano Island, The Invasion, The Infiltration, The Curse of the Pharoah, Mad Trap
Basic Training, Sleeping Gas, Gadget's Replacement, Greenfinger, Gadget Goes West
Launch Time, Photo Safari, The Coo-Coo Clock Caper, The Japanese Connection
Arabian Nights, A Clear Case, Dutch Treat, The Great Divide, Eye of the Dragon
Doubled Agent, Plantform of the Opera, Don't Hold Your Breath, Gone Went the Wind
King Wrong, Pirate Island, M.A.D. Academy, No Flies on Us, Luck of the Irish
Prince of the Gypsies, Old Man of the Mountain, The Emcrald Duck, Do unto Udders
Did You Myth Me?, A Bad Altitude, Funny Money, Follow That Jet, Dry Spell
Smeldorado, Quimby Exchange, Weather in Tibet, Unhenged, Snakin' all Over, In Seine
Tree Guesses, Birds of a Feather, So it is Written, Fang the Wonder Dog
School for Pickpockets, Quizz Master
Season 2
Magic Gadget, The Great Wambini's Seance,Wambini Predicts, The Capeman Cometh
Crashcourse in Crime, Gadget's Gadgets, Gadget in Minimadness
The Incredible Shrinking Gadget, Gadget Meets the Grappler, Ghost Catchers
Busy Signal, Bad Dreams are Made of this, Focus on Gadget, Mad in the Moon
N.S.F. Gadget, Tryannosaurus Gadget, Gadget's Roma, Gadget's Clean Sweep
Gadget Meets the Clan, Gadget and Old Lace, Gadget and the Red Rose
CREDITS:
Voices: Inspector Gadget (Don Adams)
Penny (Cree Summer Francks/Holly Berger)
Brain, Dr. Claw (Frank Welker)
Chief Quimby (Maurice LaMarche)
VIDEO INFO:
Over 24 episodes were released on 26 videos in the US, including:
All That Glitters, Busy Signal, Crashcourse in Crime, Fang the Wonderdog, Funny Money, Gadget's Roma, Haunted Castle
King Wrong, M.A.D. Academy, Presto Change-O, School for Pickpockets, Smelderado, The Coo-Coo Clock Caper
The Daffy Detective, The Invasion, The Quiz Masters, Gadget in Minimadness, The Incredible Shrinking Gadget
Gadget Goes West, Eye of the Dragon, Focus on Gadget, Mad in the Moon, Ghost Catchers, Did You Myth Me
---
The Littl' Bits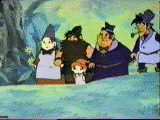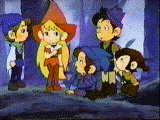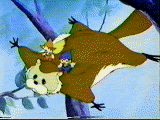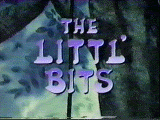 CLICK HERE TO VIEW MORE 'LITTL' BITS' PICTURES
Cute, little elf guys who live in Foothill Forest… Fun, Smurfsesque show. Ran for 26 episodes. Aired on Nickelodeon 1991.
MAIN CHARACTERS:
Willy-bit, Lilly-bit, Brownie-bit, Snaggle-bit, Snooza-bit, Elder-bit
THEME SONG:
Come join the fun with the Littl' Bits. They're all around… our Littl' Bits.
And I know that there's a lesson to be learned, come watch the Littl' Bits
and do it with love and care. They're full of love… our Littl' Bits.
Sometimes I wish… I was a Littl' Bit. Cause with a little bit of love, the world can be
A better place for you and me. We're the Littl' Bits (X3)
Cause with a little bit of love, the world can be a better place for you and me.
EPISODE GUIDE:
The Mystical Monument, Help the Squirrel, Save the Raccoon!, Madam Bella the Weaver
Let's Go to the Sea (1-2)
CREDITS:
Voices - Arthur Grosser, AJ Henderson, Dean Hagopian
Voice director - Tim Reid
Animation created and produced by Ippei Kuri
Original stories written by Shigeru Yamagawa
Animation directed by Masayuki Hayashi
Supervising producer - Winston Richard
Music by Haim Saban and Shuki Levy
---
The Little Prince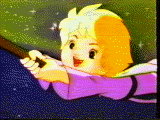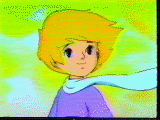 Cute, animated, loose adaptation of Antoine de St. Exupéry's The Little Prince. Little boy lives on planet B-612 and catches shooting
stars with a net riding them to far off lands. Made in 1978. Premiered on Nick in 1983. Ran for 52 episodes. 23 min. each.
MAIN CHARACTERS:
The Little Prince – Naïve, curious, alien who lives on his small planet with a rose.
Swifty – Crow. Friend
THEME SONG:
(Opening) The Little Prince, from outer space, can catch a
shooting star and sail away. Perhaps one day, he'll come your way.
(Closing) He comes from somewhere, a world way out there. And he
hasn't been back since. (lalalalala) He finds friendly faces in such strange
places, and that's the tale of the Little Prince.
EPISODE GUIDE (incomplete):
The Wolf Pack, Visit to Another Planet, Higher than Eagles Fly, The Chimney Sweep
A Small Alien, The Last Voyage of the Rose, On the Wings of Love, Rob the Rainbow
Shipwrecked, Perfect Plane, Stargazer, A Light in the Storm, A Wishing Stone, Erase All Beauty
Play it again Sean, For the Love of Animals, The Dancing Bear
Credits:
Voices: Little Prince (Julie Dees)
Swifty (Hal Smith)
Music composed and conducted by Dale Schacker
Editorial Supervisor - Franklin Cofod
Edited by Christopher Cooke
Special Effects - Fritz Miller Animation/Graphics
Recorded by Sound Services Inc.
Re-recorded by Mix Magic
Color by Getty Film Laboratories
Syndication services by The Video Tape Company
World Wide Distribution by Irving Klein
Distributed in the United States by Jason Syndication Inc.
Animated by Jambre Productions for Studio NAC
Jambre Productions