NICK-AT-NITE
Lancelot Link: Secret Chimp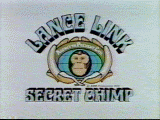 Live-action crime saga... w/chimps. Lancelot Link is called upon by the APE (Agency to Prevent Evil) in their ongoing fight against CHUMP (Criminal Headquarters for Underworld Master Plan). Originally aired 1970-1971 as "The Lancelot Link-Secret Chimp Hour" on ABC. The Half-hour version was rebroadcast for the last season and cancelled in 1972. It reran on Nick-at Nite starting in the early 90s. Now, it can be seen on TVLAND.
MAIN CHARACTERS (Mata Hairi, Darwin Baron, Creto, Dragon Woman, Dr. Strangemind, Ali Assa Seen, Wang Fu, Duchess.)
Credits:
Voices: Dayton Allen
Joanie Gerber
Bernie Kopell
Malach Throne
Steven Hoffman
---
Hi Honey, I'm Home!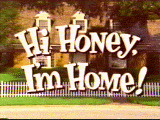 Fresh, perceptive, yet short-lived series. Inspiration for 'Pleasantville'? hmmm. Told the story of the Nielsens, a B&W, wholesome sitcom family. However, something happens and they get stuck in the real world. Via the aid of a machine called the Turnerizer (hehe) they can switch from being in color to being
in B&W. Wacky adventures ensue. Ran from 1991-1992. CBS would air the episodes first, then at night they would air on Nick. 13 episodes.
THEME SONG:
We were once a sitcom family on your black and white TV.
Now we're off the air, been pulled from there and dropped into reality.
Life was once much duller, they put color in our monochrome.
Still, she gabs all day and spends my money. I find the situation funny
Doesn't life seem so re-runny? Hi honey I'm home! Hi honey I'm home!
Credits:
Mike Duff (Peter Benson)
Sidney "Skunk" Duff (A.J. McLean [unaired pilot only]) (Eric Kushnick)
Elaine Duff (Susan Cella)
Babs Nielson (Julie Benz)
Honey Nielson (Charlotte Booker)
Lloyd Neilson (Stephen C. Bradbury)
Charles "Chucky" Nielson (Danny Gura)
---
Mad Movies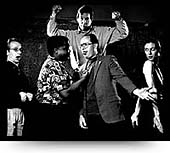 Created by Kent Skov. An improv group of several guys (including Paul Rugg) called the L.A. Connection would take an old
movie cut it up into a 15 min. story and add their own voices to create a new story. Would air Sat. & Sun. nights on Nick-at-Nite.
EPISODE GUIDE (incomplete):
Night of the Living Dead, The Inspector General, Zorro's Fighting Legion, Under California Stars
---
MISC. (Shorts, etc.)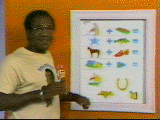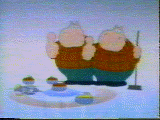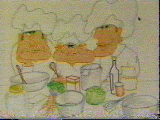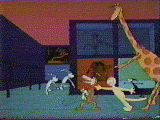 A great deal of shorts aired on Nickelodeon in the late 80s, early 90s. These included Sports Cartoons (with the Cat and hippo), Bill Cosby's Picture Pages (with Mortimer the Marker), and many others (mostly Canadian) such as:
* Tanya Weinberger's "Fast Food" (where three chefs must cook using all-natural green food coloring, i.e. a frog)
* Cordell Barker's great "The Cat Came Back" (the very next day, the cat came back, they thought he was a goner, but...) and
* Michael Posch's "Rock 'n Roll Pet Shop".