Mr. Wizard's World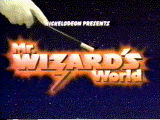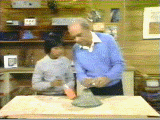 Don Herbert is the man. mmm…hmm. a-HA. Basically, Mr. Wizard in a room with a young kid or kids showing them tricks with science. Long-running series.
---
Nick Rocks (Nick Jr. Rocks)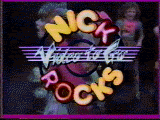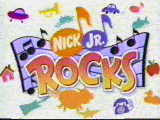 Music videos picked by kids. 1982-1989
Credits:
Host - Joe from Chicago
Producer - Andy Bamberger
---
Out of Control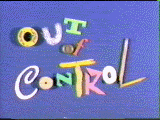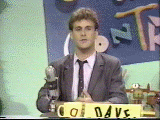 CLICK HERE TO VIEW MORE 'OUT OF CONTROL' PICTURES
Great, goofy talk/skit show. Dave Coulier (pre-Full House) Segments included "Adult Education", "How Not to Do Things", "It's Probably True"
"Great Moments in Inventions","It's Alive", "Let's Eat", etc. 1984-1988
MAIN CHARACTERS:
Dave – Host of the show. Sat behind the desk most of the time.
Diz – Large lunged, heavily made-up girl. Screeching
Hern – Sleazy, egomaniac in a grey suit
Angela – Blond-haired goofball.
Waldo – Dorky-looking guy in glasses. Inventor.
Credits:
Starring: Dave Coulier (Dave)
Diz McNally (Diz)
Marty Schiff (Hern)
David Stenstrom (Waldo)
Jill Wakewood (Angela)
Produced and directed by Bob Hughes
---
PINWHEEL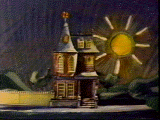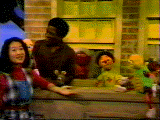 CLICK HERE TO VIEW MORE 'PINWHEEL' PICTURES
CLICK HERE TO VIEW PICTURES FROM A FEW SHORTS THAT AIRED ON PINWHEEL
Nick's first main program. Sesame-Street like goings on, mixed with loads of often drab, foreign short cartoons (from Canada and Eastern Europe mostly)
Used to run for around 4 hours until the afternoon. Whew. 1981-1989.
THEME SONG:
Pinwheel, pinwheel, spinning around. Look at my Pinwheel and see what I've found.
Pinwheel, pinwheel, where have you been? Hello, how are you, and may I come in?
Pinwheel, pinwheel, spinning around. Look at my pinwheel and see what I found.
Pinwheel, pinwheel, breezy and bright. Spin me good morning, spin me good night.
MAIN CHARACTERS:
Jake and Kim – Main guy and girl.
Sal and Smitty – Ran the "Daily Noodle" newspaper. Sal the photgrapher, Smitty the writer.
Plus and Minus – Bert and Ernie rip-off. "Gotcha last"
Luigi O'Brien (and his talking vegetables) – Italian puppet.
The Admiral Bird - Sal and Smitty would always try to catch it and photgraph it for their paper.
The Hobo-Bugs (Herbert & Lulu) – Bro and Sis bugs. Known for their "Hobo-bug Giggle Dance"
Molly the Mole – Squinty-eyed, little mole.
Orelia – Fortune teller.
Silas the Snail – Slow-paced guy who lived in his big shell.
Ebeneezer T. Squint – Green guy, whose best friends are his weeds.
Credits:
George James (Jake)
Arline Miyazaki (Kim)
Dale Engel (Smitty)
Betty Rozek (Sal)
Jim Jinkins (Other voices)
---
Rated K: For Kids by Kids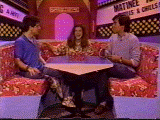 Movie reviews and discussions amongst a panel of three teenagers.
Credits:
Matt Nespol
Rebecca Schweiger
Mark Shanahan
---
Reggie Jackson's World of Sports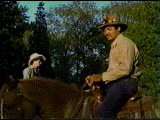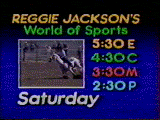 ---
Salute Your Shorts
Great, fun show about a bunch of kids at a summer camp (Camp Anawanna). Ran for 26 episodes from 1991-1992 and continued on syndication
for a good number of years.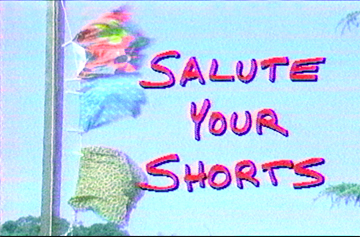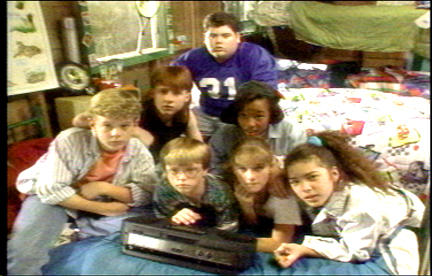 THEME SONG:
"We run. We jump. We swim and play. We row and go on trips.
But the things that last forever… are our dear friendships."
Camp Anawanna, we hold you in our hearts.
And when we think about you (it makes me wanna fart)
"It's 'I hope we never part'. Now get it right or pay the price."
Now we will share a lifetime of the fondest memories.
By the lake of Anawanna… Sat in the old pine trees.
Camp Anawa-…, we hold you in our hearts.
And when we think ab-… (this thing, it came apart)
Think Anawanna-wanna, speak Anawanna-wanna…
Live Anawanna-wanna. Ug!
Credits:
Kirk Baily (Kevin "Ug" Lee)
Megan Berwick (Z.Z. Ziff)
Michael Ray Bower (Eddie 'Donkeylips' Gelfen)
Danny Cooksey (Bobby Budnick)
Venus DeMilo (Telly Redford)
Tim Eyster (Sponge Harris)
Heidi Lucas (Dina Alexander)
Erik MacArthur (Michael Stein)
Blake Soper (Ronnie Pinsky) replaced Michael midway through
Produced by Propaganda Films
---
SK8 TV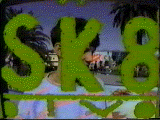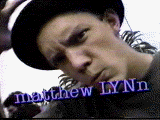 The world of skateboarding. Hosted by Matthew Lynn (now Matthew Lillard) co-hosted by Skatemaster Tate. Good stuff, interviews, etc. 1990
---
Standby... Lights! Camera! Action!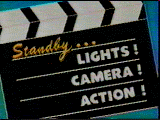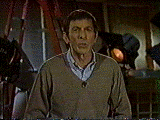 Thorough, behind-the scenes look at various current movies, w/interviews. Hosted by Leonard Nimoy. 1982-1984