Adventures of Black Beauty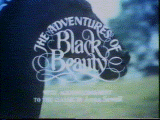 British tv series adaptation of Anna Sewell's classic novel. 1972
Credits:
Starring: Judi Bowker (Vicky Gordon)
Stacy Dorning (Jenny Gordon)
William Lucas (Dr. Gordon)
Charlotte Mitchell (Amy Whintrop)
Roderick Shaw (Kevin Gordon)
Produced by Sidney Cole
L.W.I. Production
Talbot television presentation
EPISODE GUIDE (incomplete):
A Ribbon for Beauty, A Mission of Mercy
---
Against the Odds
A biography program, narrated by Bill Bixby, focusing on people who have made a difference in their particular field (science, literature, etc.) 1982-1984
---
Clarissa Explains it All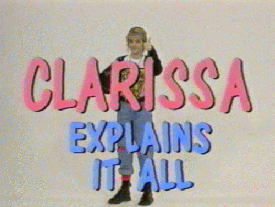 Smart sitcom about a quirky teenage girl who trying to get through life. Intelligent kids program. Ran for 65 episodes from 1991-1994.
Credits:
Starring: Melissa Joan Hart (Clarissa Darling)
Jason Zimbler (Ferguson Darling)
Elizabeth Hess (Janet Darling)
Joe O'Connor (Marshall Darling)
Sean O'Neal (Sam Anders)
Created and produced by Mitchell Kriegman
(C) MTV Networks
EPISODE GUIDE :
Season One: Revenge, School Picture, No T.V., Urge to Drive, CNN, Haunted House, Bully
New Addition, Brain Drain, Bake a Cake, Parents Who Say No, Cool Dad,Sick Days
Season Two: Crush, She Drives Me Crazy, Sam.....Darling, President Ferguson, The Return of Mafalda
The Great Debate, ME 101, The Understudy, Can't Buy Love, Misguidance Counsellor,Sam in Love
A New Look, Total TV, Janet's Boyfriend, The Darling Wars, Poetic Justice,Sam's Swan Song
Season Three: Punch the Clocks, The Silent Treatment, Involunteering, Take My Advice...Please
Marshall's Mid-Life Crisis, Football Fever, Life of Crime, Marshall's Parents Visit, Blind Date
The Flu, ESP R US, Commitment, Road Trip, The Bicycle Thief, Boy Thoughts, Hero Worship
A Little Romance, The Zone, The Tale of Two Moms, Don't I Know You, Babysitting
Educating Janet, The Cycle, A New Mom
Season Four: Editor-In-Chief, Piper Comes To Visit, Alter Ego, Sam's Dad, The Firm,Janet & Clarissa, Inc.
Ferguson Explains It All, Dear Clarissa, UFO, Clarissa Gets Arrested, The Final Episode
---
Don't Just Sit there
A skit/variety show featuring the band, Out of Order.
---
Dusty's Treehouse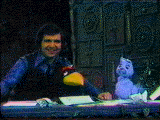 Excellent, Emmy-Award winning, low-budget, kids program created and hosted by Stu Rosen (as Dusty). An offshoot of an L.A. PBS show
'Dusty's Attic' (1966-1967), Dusty would teach important lessons and go to strange places in his hot-air balloon. The puppets (led by pupeteer
Tony Urbano) included Stanley Spider, Maxine the Crow and Scooter Squirrel. Ran for 376 episodes, 1970-1980. In 1980, Dusty's Treehouse
began showing, in syndication, on Nickelodeon and continued until 1984.
---
Elephant Show, The (Sharon, Lois, and Bram)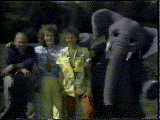 Skinnamarinki dinki dink. Skinnamarinki doo. Wacky adventures of a guy in an elephant costume palling around with three songsters named
Sharon, Lois, and Bram (often joined by Eric Nagler). The show consisted of goofy skits and songs, mixed with footage from their concert.
First aired in Canada in 1983, then premiered on Nickelodeon several years later to very high ratings. Ran for five seasons (13 episodes each).
THEME SONG:
One elephant went out to play upon a spider's web one day.
They had such enormous fun that he called for another elephant to come.
Two elephants went out to play upon a spider's web one day.
They had such enormous fun that they called for another elephant to come. (etc.)

SKINNAMARINK SONG:
Skinnamarinky dinky dink, skinnamarinky doo.
I love you…
Skinnamarinky dinky dink, skinnamarinky doo.
I love you…
I love you in the morning and in the afternoon.
I love you in the evening and underneath the moon.
Skinnamarinky dinky dink, skinnamarinky doo.
I love you (I love your singing!)
I love you (We'll see you next time!)
I… love…. you (boo. Boo-boo-bi-doo) Woo!
---
Eureeka's Castle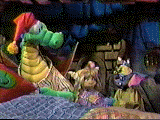 Heir to Pinwheel's throne was in a similar vein. Skits with cute muppet-like characters, some toons. They lived in a giant's wind-up castle. Premiered Fall of 1989.
MAIN CHARACTERS
Eureka – Sorceress in training
Magellan – Clumsy green dragon, w/a tail with a mind of its own
Batly – Clumsy, egotistical bat. Always crashed saying, "I…meant to do that"
Credits:
Voices: Noel MacNeal (Magellan)
---
Fifteen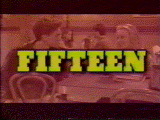 Nick's continuing, high-school saga. "Matt you've got a drinking problem." "What're you talking aboot?" Melodramatic, hokey, never funny…
but appealing for its maliciousness, gravity, and simplicity. The plot over its 65 episodes changed drastically with many cast switches.
Aired weekdays. 1990-1993
MAIN CHARACTERS:
Matt – Drunk basketball stud.
Dylan – Rebel. Cool guy. Yeah, but his real name's Corky.
Brooke – Nosy snob.
Janice – Brooke's tag-a-long snob in training.
Ashley – Matt's girl.
Billy – Courtney's little brother. Thinks Dylan is awfully cool.
Credits:
Starring: Ken Angel (Jake)
Laura Harris (Ashley)
Corky Martin (Dylan)
Ryan Reynolds (Billy)
Robyn Ross (Brooke)
Rekah Shah (Janice)
Todd Talbot (Matt)
Directed by Michael Berry
---
Fred Penner's Place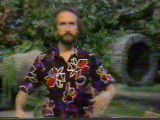 "Happy feet" and "Heads...shoulders, knees and toes, knees and toes..." That's all I remember.
---
Going Great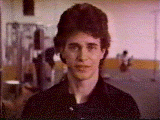 The show, hosted by Chris Makepeace focused on kids who did amazing things (body builder at 12, etc.) Honest, excellent
program for kids. Aired on weekends.
---
Hey Dude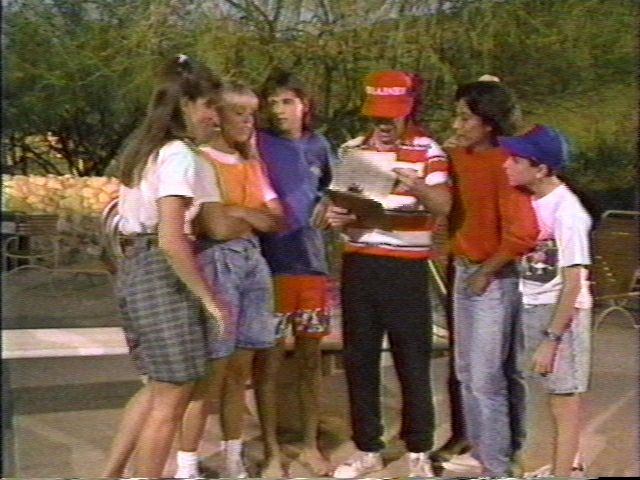 Fun, light comedy centered around the adventures taking place at the Bar None Dude Ranch. The ranch was run by Benjamin Ernst, a wanna-be
cowboy from NY. The show ran for 65 episodes (1989-1991)
THEME SONG:
It's a little wild and a little strange...
when you make your home out on the range.
So, start your horse and come along.
'Cause you can't get a ride if you can't hold on.
Singin' yippee kai aie ay. (Yippee kai aie what?)
Like the cowboys say. (Sing it again now.)
Yippee kai aie ay.
'Till the break of day.
(You'd better watch out for those man-eating jackrabbits... And that killer cacti!)
Hey Dude!
Credits:
Ted McGriff (David Lascher)
Melody (Christine Taylor)
Danny (Joe Torres )
Brad Taylor (Kelly Brown)
Benjamin Ernst (David Brisbin)
Buddy Ernst (Josh Tygiel)
Lucy (Debra Kalman)
---
Kids Writes*
The cast performed on a very unique set consisting of several wooden ramps, steps, metal hoops, nets, and overhangs. The premise was that children would
send in stories or songs that the players would perform. They never used props, aside from the set. Before each story or song, they showed a picture with
the name and hometown of the author. Aired in the early 80s.
MAIN CAST:
Jim Mairs (narrator)
Steve Rifkin (tall, thin guy in a blue suit, w/an afro and a mustache)
Carlo Grossman (short, stocky, tan guy with black hair and an orange suit)
Whynn White (woman in a pink suit, w/brown hair)
John Rousseau (balding man in a purple suit)
THEME SONG:
KIDS WRITES
KIDS WRITES
KIDS WRITES
Her's to you!
What you write is what we do, the words are all by you
up to you.
Imagination is the clue you know its up to you,
you to us,
us to you.
Your ideas
coming through
dreams and hopes from envelopes, some are funny, some are blue.
The words are from your hearts and hands so we sing here's to you.
Letters, stories, words by you, letters stories words by you.
Here's to you!
*info contributed by doctorwho
---
Livewire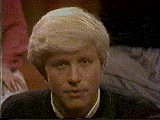 Excellent, Cable Ace-award winning, talk show w/a kid audience, aimed at kids. 1982-1985
Credits:
Host - Fred Newman
Executive producer - Jeff Weber
Warner Amex
Satellite Entertainment Co.